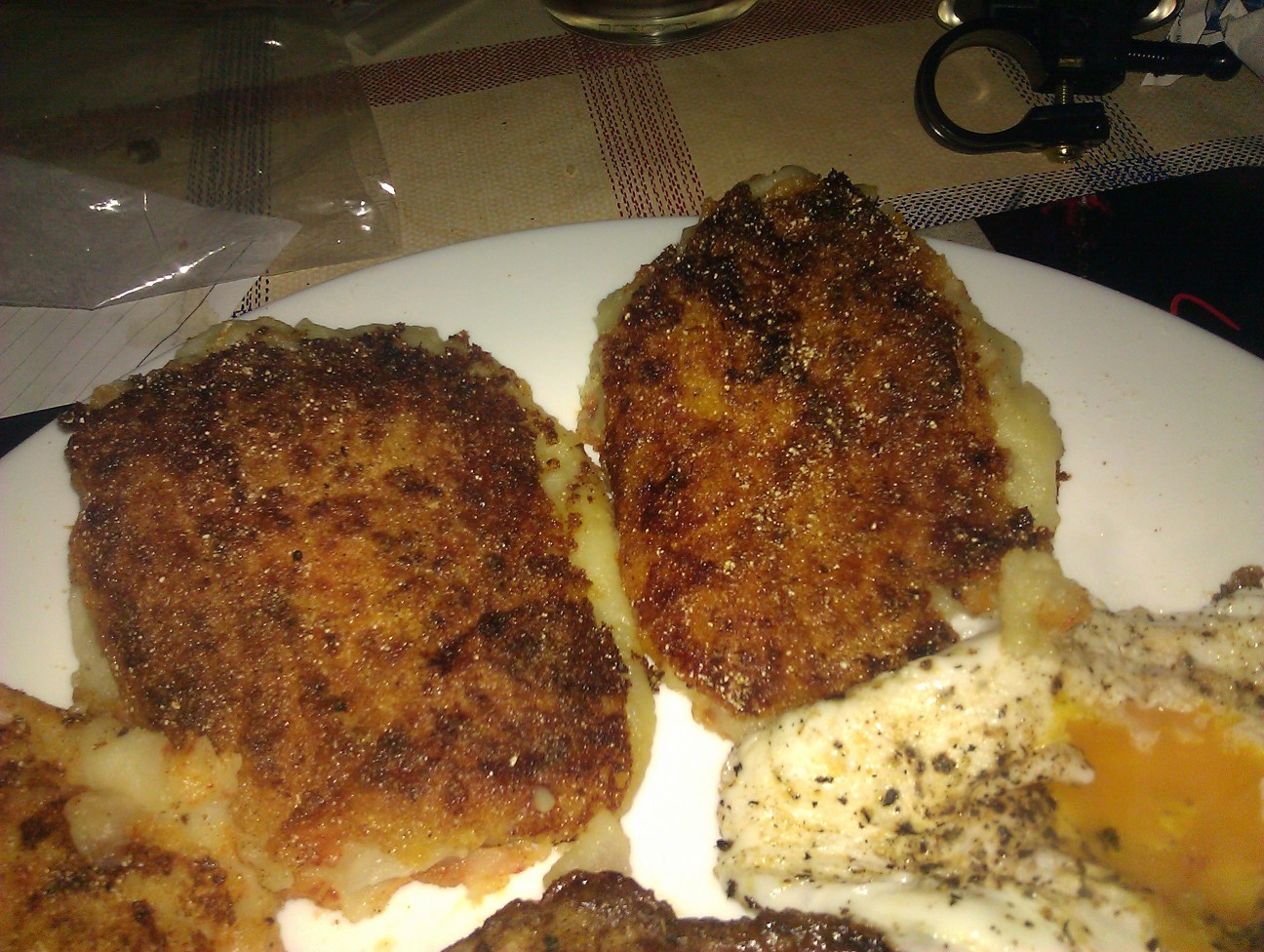 So my not so well behaved dinner this evening contained potato cakes (and a beautifully fried egg). Potato cake are very very easy to make, the hard part is ensuring you dont eat the mash before you cake them. For tonights dinner, I used leftover cheese and onion mash (I specifically made a double batch for that dinner), but if you like to mash other things in (I can highly recommend ham) then go for it!
I shall assume you can cook mashed potato. If you can't ask your mammy, or if you can't (for reasons of distance or pride), the dailyspud should be your go to woman for all things spuddy (her mash recipe is here, though she has a few others if you look in Recipes).
2 people's worth of leftover mash (not the mass of a person, just the amount they'd like to eat)(and the mash can be plain or fancy)
50g Plain flour
50g Polenta
1 tsp smoked paprika
As much black pepper as you care to grind
A saucer full of milk
Oil to fry the cakes
I find chilling the mash makes it a lot easier to work with when making potato cakes. If yesterday's leftovers, just store in the fridge over night, otherwise try to give at least two hours in a fridge, the mash should be room temperature at most. You can shape prior to chilling, or just stuff the mash into a lunch box, so you can take slices off a log of mash instead. Make sure the shapes arent too big or they'll break up in the pan when you try to turn them.
Mix the flour, polenta, and spices on a plate. Heat a pan with oil in it, so that it sizzles if you flick some water at it (don't pour on water, just dip your finger in water and flick whatever sticks). Take your cakes (either prepared shapes or slices from a log of mash) and dip in the saucer of milk (both sides). Then dip the cake in the flour mix (both sides) and put in the hot pan. Prepare a number of cakes like this, then start turning the cakes in the order they were put on the pan (they should be golden brown underneath). Cook until both sides are nice and crispy. Drain on kitchenpaper and serve to hungry people with some lovely mayo or other such appropriate sauce.
You can use this crispy coating on other things that deserve a crunchy outside. I plan on trying it on chicken next time I have some, I shall report back!