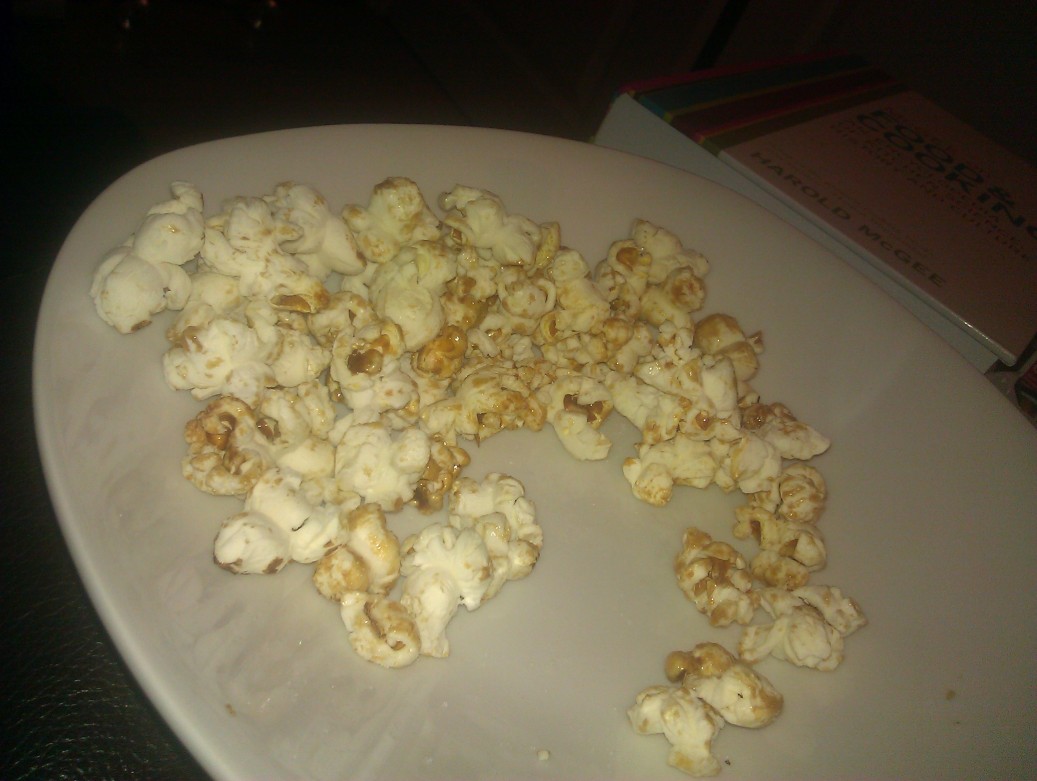 With the sorrowful arrival of the kettle corn recipe, comes the shopping for clothes two sizes bigger. The stuff is unnessecarily tasty, and as I discovered this evening, terribly easy to make. So far it doesn't seem to have ruined the pot either (my other excuse for not making it till now), though I will keep you posted if I find out otherwise tomorrow.
Super thanks go to Becky for the recipe!
1/2 cup corn
1/6 cup light brown muscavado (Becky suggested caster sugar, but I'm all out)
Oil for the pan
Salt
You can already see how terrifyingly simple the recipe is.
Get your popcorn serving bowl ready first, and fish out your biggest saucepan with matching lid.
Pour in oil to put a thin layer on the bottom of your pot and throw in three "Sacrificial Grains". Put your pot on a fairly high heat (on an electric that goes to 6, i'd go with five or six. Sadly I still havent sussed out the gas hob fully, so if the oil starts to smoke, it's too hot, beyond that, it's a bit of a matter of experience). Mix the sugar and corn in their cup.
When the Sacrificial Grains have popped, then dump in your sugar/corn mix. Shake the pot regularly to let everything heat evenly, and enjoy the popping! If you don't have very big pots, you'll have to learn the skill of dumping out half the popcorn and returning the rest to the heat (without messing the kitchen, that's the skill part). If you do have a very big pot, when the popping slows, dump the contents into the serving bowl (see why I said to have it ready). I put water into my pot before eating (as did Becky, and I am informed her kitchen elf cleaned the pot wonderfully and with little hassle).
Sprinkle liberally with salt (as much salt as if it wasn't sugar popcorn, honestly, this stuff is best sweet and salty) and try not to eat it all at once....
(And yes, that's On Food and Cooking in the background of the photo, honestly it's just coincidence that it was behind the bowl, it's been on my coffee table for weeks while dip in and out of it (did I mention that I love this book?))