I love a good shortbread so I do. It's quick enough to make, and the buttery delight means it's hard to make shortbread that doesn't taste good. People always go on about shortbread being quick enough to make if guests suddenly arrive and you want to show off / not go to the shop for biscuits, but seriously, who does actually do that. I just make it on a whim, so the lads in college will be in for a treat tomorrow, lucky folks.
The recipe was derived from a barely remembered (misremembered?) ratio of 3 parts flour to 2 parts butter to 1 part sugar. It's VERY buttery, so if you don't like buttery shortbread you won't like this (also, how can you not like buttery shortbread). It's a simpler cousin of
this recipe
, it's not as delicate and fragile, an altogether more robust shortbread than can survive the trip to work.
It is pretty quick to make, about ten to fifteen minutes making the dough and then fifteen to twenty while they bake in the oven. If you want to chocolate coat them then that will take extra time. This makes about twenty biscuits (4-5cm in diameter).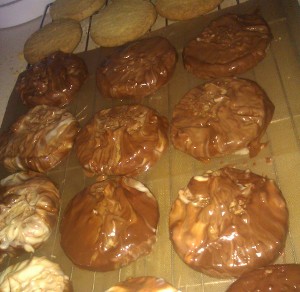 240g plain flour
160g butter
60g caster sugar
1 tsp almond essence
Preheat the oven to 170°C (mine's a fan oven). In a bowl, mix together the butter and flour until it starts to resemble breadcrumbs. Then add in the sugar and essence. Mix about a bit, then start to knead it all together. The kneading takes a little work as it's a pretty crumbly dough (the only thing holding it together is butter!). When it's come together as a lump, you can roll it out. (I stuffed it into my biscuit gun and cut off neat circles, as it's too stiff to pass through the shapes). (I made about 20 biscuits)
Put your (about 8mm) thick cookies on your parchment lined tray. Leave a little space around the biscuits, they'll spread by about 20% due to the massive amount of butter in them (they melt basically). Put them in the oven for 15 to 20 mins until starting to brown very very lightly. Leave to cool on the tray for five minutes before transferring to the wire rack.
Optional:
You can coat the biscuits with chocoalte if that's your thing. I coated 15 of the biscuits with about 200g of chocolate. While the oven is cooling, put the broken chocolate into a borosilicate (pyrex is a tradename dontchano) bowl and while the biscuits are cooling the chocolate can melt and you dont have to watch for it burning in the microwave. Dip each biscuit into the melted chocolate using a pair of forks, turn and then place on parchment to set (I'm using one of these nonstick sheets for the oven that you get in Aldi). And be patient. When they're set, you can eat them!