At the recent sugar craftnight in TOG (our annual Xmas party where the crafters eat too much cake and biscuits and hot chocolate), I had a go off proper icing, with an icing bag and all, and decorated a rather dapper velociraptor (raptor made by Becky).  It was also my first go off making royal icing for decorating, and I quite enjoyed the whole thing, so went out and got icing gear and a Christmas tree cutter so I could keep icing at home.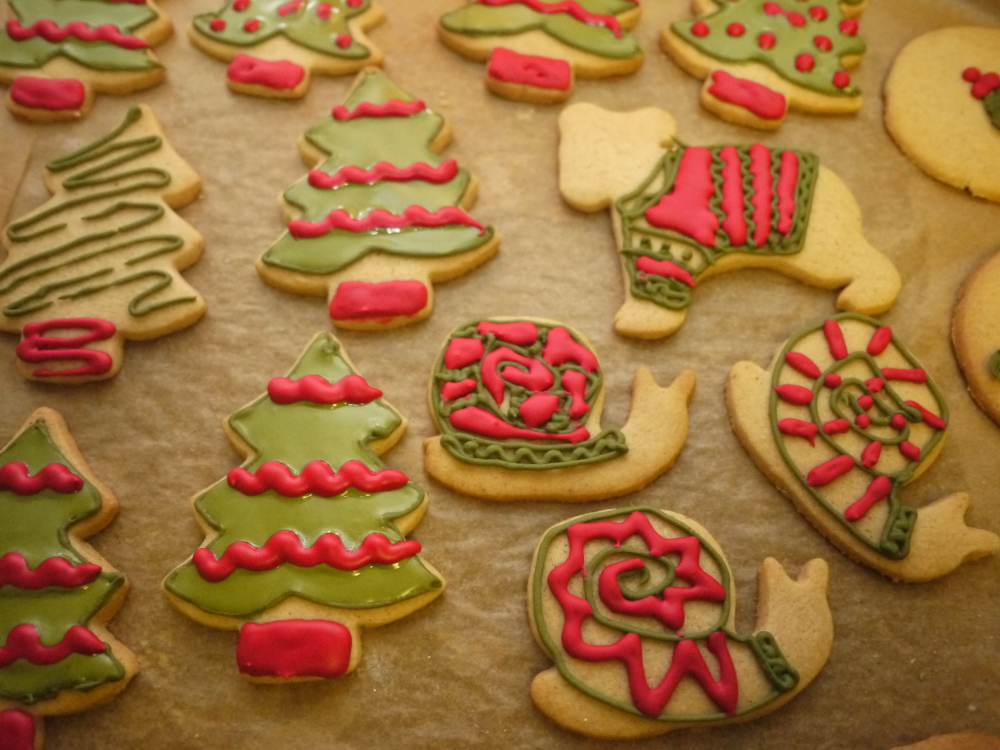 So far as I can tell, the only thing consistent between royal icing recipes is that it contains egg whites and sugar. The methods aren't all consistent, and things like the addition of lemon juice or glycerine seem optional, even the eggs to sugar ratio varies from page to page.  If you're using the icing to decorate a cake, there's probably a lot more effort to be put into beating it to make it stiff, but for piping on to biscuits and doing a flood fill, things are a lot more flexible.  Also, use gel food colourings if you want proper colour, the liquidy ones only work when they're what your using to hydrate the icing as you'd need to add to much for a vibrant effect.
You can buy bags of powdered royal icing in the shops, so you can make up as much as you need.  Thin it out with lemon juice so you can pipe with it, and thin it out even further for flood filling areas that you've piped around the edges (see the Xmas trees, the edge is the boundary to stop the flood fill rolling off thet cookie).  The advantage of the powdered royal icing is that the egg whites are dried and mixed already, meaning you don't have to mess around separating egg whites and feeding raw egg to people who don't want it (and may not recognise that it's in icing).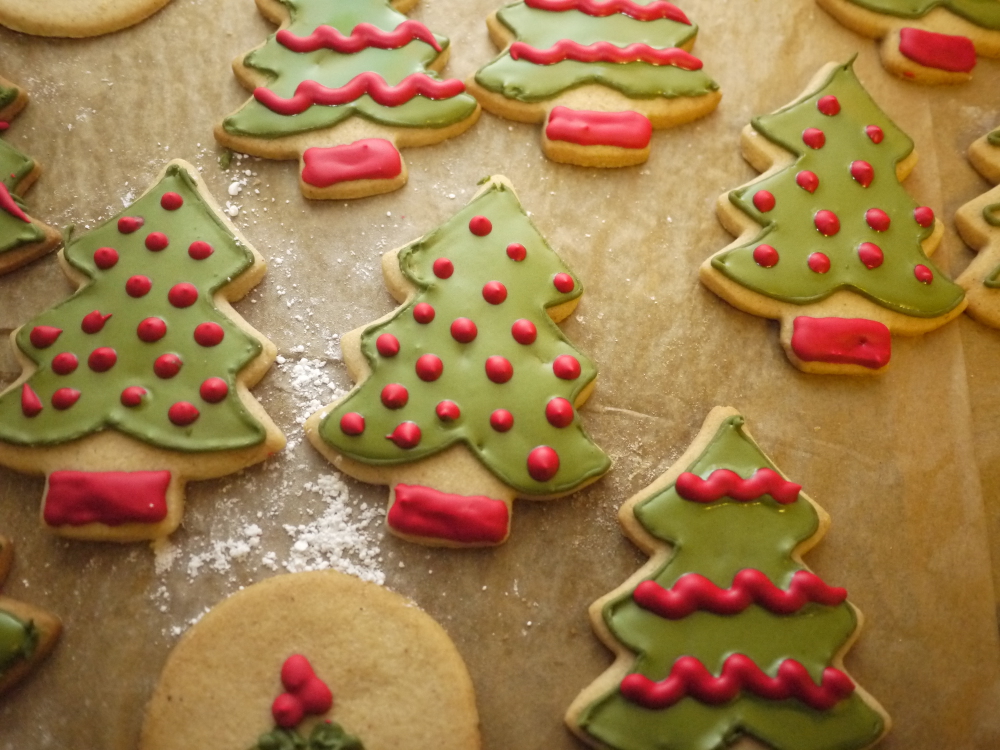 Of course, what's the point in iced cookies without cookies! Many thanks to Carri for the recipe which I have duly modified by chucking in some spices.  I'll probably be more heavy handed the next time, but at this ratio, people who normally don't like cinnamon or ginger did their best to eat the whole batch. You could also use vanilla in place of the spices, though I think cinnamon should be added to every baked thing (within reason, maybe).  Leave some undecorated for the people who don't care for icing.
225g butter
175g icing sugar
1 egg
1.5 tsp baking powder
450g flour
1 teaspoon ground nutmeg
2 teaspoons ground ginger
3 teaspoons ground cinnamon
Preheat the oven to 180°C and line some trays with baking paper. Get the wire cooling rack ready and a plate for cooled cookies too, as the cookies will constantly be going in and out of oven and you'll need somewhere to put them. This recipe makes a LOT of cookies.
Cream the butter and sugar together, then beat in the egg. Sift the flour, baking powder and spices and add to the mix. Knead briefly and roll out to about 5mm thick. Cut out with your preferred cutters, place on the baking tray (they don't spread too much during cooking, but leave a little space between them anyway). Bake them for about ten minutes, until they are a pale golden colour. Let to cool for a minute before transferring to the wire rack (they're a little fragile straight out of the oven). When they're cold, move them off the rack to a plate, as the next batch will be out of the oven shortly.
When the cookies are all made, make up the icing according to the pack. Take some of the icing into a new bowl and add the colour and thin with lemon juice until you can pipe it. If you want to floodfill, go round the outside of the area you want to fill, then thin the icing even further with more lemon juice so it's pourable and you can fill the space on the cookie. The floodfill ends up paler than the outline if you simply thin the outline paste without adding more colour. Let the icing to partly dry at least before you move on to the next step. These cookies lasted about four days from baking, well they were finished within four days, so I'm not sure how long they'd last beyond it.