For Easter my lovely fella's lovely mammy invited me over for dinner, so I had to bring something tasty. I've been meaning to make something lemony for a while, and so lemon bars were made. Unfortunately, they're awful tasty, so I had a couple for breakfast, leaving not quite enough to go round after dinner....
The base is a sort of lightly crispish base, like that of the caramel slices, and the topping is a lovely sweet lemon curd. I'd imagine dropping some of the sugar or increasing the amount of lemon juice should increase the tang, or making icing using the juice of another lemon should get a proper wince going.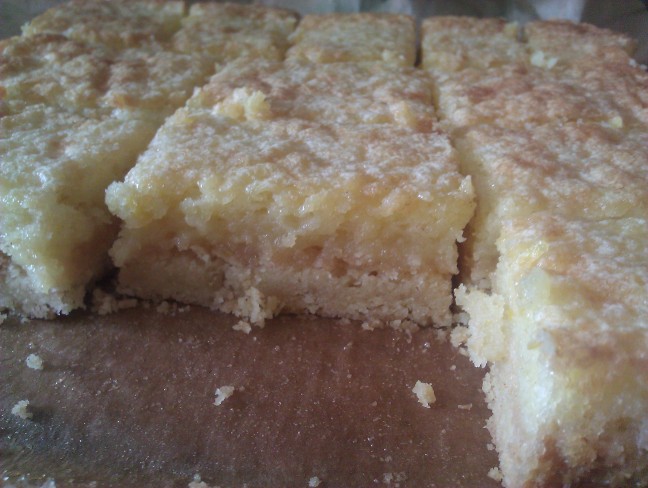 175g plain flour
125g butter
50g granulated sugar (though I used caster and it was grand)
200g caster sugar
2 tbsp flour (I used self raising even though recipe called for plain)
1/2 tsp baking powder
1/4 tsp salt
2 medium eggs
Juice and grated rind of one lemon
Whatever you'd like to top it with (icing sugar/icing/fresh air)
Preheat your oven to 170°C. Grease and line a 20cm cake tin (mine was 18cm, first time I've ever bothered to measure).
If you have a food processor/chopper, you can use it here or you can do it by hand. Rub the butter into the 175g of flour until it's like breadcrumbs, and then mix in the sugar (the 50g lot). Pour the crumbs into the tin and press down firmly. Bake for 20 minutes in the preheated oven.
While that's cooking, prepare the curdy topping. Into your food processor/chopper/big bowl, add the sugar, flour, baking power and salt. I like to leave the wet ingredients until the base is nearly ready to come out of the oven. So you can use this time to get the rind off the lemon (this is a damned fiddly job, and I keep meaning to upgrade my zester). When the zest is off (add it to the dry mix above), roll the lemon firmly on the counter, and then juice over a sieve into a bowl (apparently rolling is supposed to get extra juice out by breaking up the insides a bit, either way rolling gets extra lemon smell onto your hands). Beat the eggs and add to the mix along with the lemon juice and whizz/beat well.
When the 20 mins for the base are up, it should be a nice light golden colour. Pour on the curdy mix and put back into the oven for another 20mins. The recipe reckons the middle of the cake should have a slight wobble and then it's done, but I overcooked mine (25mins instead of 20) so no wobble (still tasted good though).
Leave to cool in the tin. You can dredge with icing sugar, or put a nice lemon icing on top, or you can do nothing like I did (I was running late, I'd probably have tried harder if I got up earlier). Slice into bars and serve with a bucket of coffee. The recipe claims 24 bars, but I think about fifteen good size bars is more like it.