I am told that there are "people" out there who don't like peanut butter, not because they're allergic and their face will swell up, but because they just don't /like/ it. Well, this is not for those "people", this is for us normal folk who enjoy smushed nuts smeared on toast.
We like peanuts in this house, they're tasty, very tasty, and go great with beer, cider or just a big mug of milk. Every once in a while, we end up picking up a bag of peanuts that aren't nice and crisp and seem to be under roasted. One day himself decided we should figure out how to make peanut butter to use up these less nice nuts.
In the quest to learn how to make peanut butter, it was discovered that stick blenders aren't very good for making peanut butter, and that my mother will sleep through using her (loud) food processor to make the same. After a time, we picked up a handy wee chopper in Aldi for blitzing the nuts, as we don't have room for a full-size food processor.
This evening's experiment was to see if maple syrup would work nicely as it's a good substitute for half the golden syrup in peanut butter cookies (recipe to follow at some point).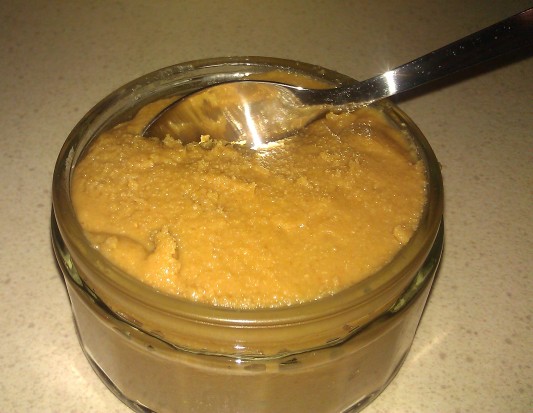 200g salted peanuts
1 dessert spoon of maple syrup (proper stuff, you know, the stuff in glass jars that's pretty runny) (Aldi do a good one that won't break the bank, Marks and Spencer do a good one that will)
3 teaspoons vegetable or peanut oil (for the love of god don't use olive oil or other strong tasting oil)
1/4 teaspoon of salt
In theory you can shell, skin and roast your own nuts, but buying bags of salted peanuts is just as easy. If you like a well roasted nut (an even more roasted one that how it was roasted before you bought it), scatter them on a lined tray and put into a 200°C oven for 10 minutes. Check them after five minutes and give a little shake, don't let them scorch.
Then tip the nuts into your chopper/food processor, and start whizzing. When the nuts have turned into a coarse powder, add 2 teaspoons of the oil, the maple syrup and keep whizzing. My chopper isn't amazing, so I periodically stop, scrape down the sides and bottom of the bowl, and go again. It takes longer than you'd expect but the nuts should break down to a paste. Taste the butter, and add the salt if it's needed (some salted peanuts are saltier than others). Add more oil if the paste is too stiff (you need to be able to spread it on toast at the end of the day).
So basically, lots of whizzing and a bit of extra oil is all you need to make peanut butter. The oil seems to be necessary to get the butter to come together enough to be chopped finer. Sugar is optional, but I like slightly sweetened pb, salty and sweet things are what taste buds were made for!
I'm looking forward to smearing this on thick slices of toasted scotch batch in the morning and drinking some fine fine coffee with it. (Also, next time I make it, I'll be doubling the maple syrup, so you might want to experiment with that if you've a sweet tooth).