I've been meaning to make cheesecake brownies for a few years. I've a great recipe for brownies from Chocolate Cookery (you'll have to look this one up on abebooks) and an equally great recipe for white chocolate cheesecake. Others have combined these before with much success, so it was my turn to have a go off them.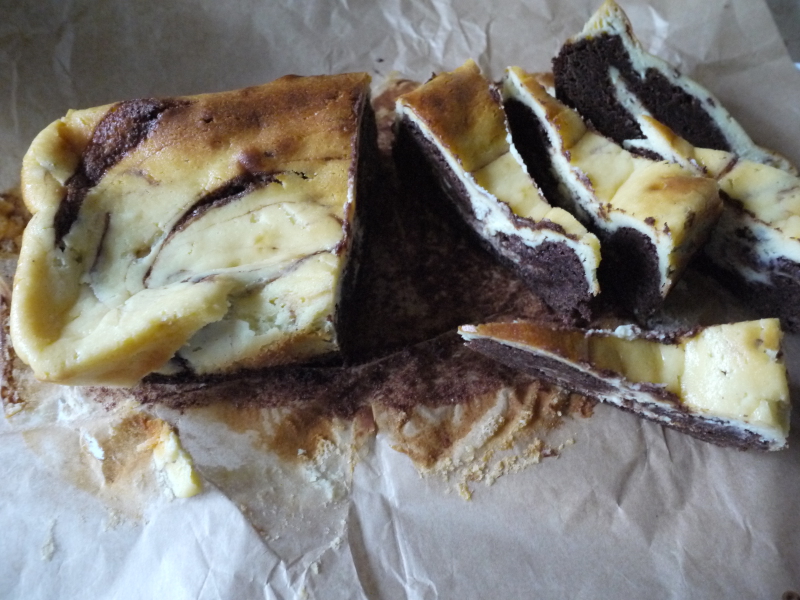 Each of the cheesecake and brownie recipes can stand alone. The brownies need some chocolate chunks and nuts, and are ready to rock like that. The cheesecake can be poured on a pastry base or a biscuit base with a few rasberries and baked at 170°C for 45mins. Of course, you can combine the two, and much tastiness ensues...
Makes 12 brownies, a cheesecake for 6, or enough cheesecake brownies for a party (about 24 reasonable sized wedges)
Cheesecake batter
200g white cooking chocolate
250mL cream
300g cream cheese
50g caster sugar
2 eggs
Put about 70mL of cream and the white chocolate into a pot and heat until the chocolate is almost melted. Give it a good stir and set aside to cool (if it's hot it will cook the eggs).
Mash the cream cheese with the sugar (to say cream the cheese with the sugar implies it's a lot smoother to do). Beat in the cooled white chocolate mix. Then beat in the eggs, and mix in the remainder of the cream.
Brownie mix
225g butter
375g caster sugar
3 eggs (orignal recipe called for 4 medium, but we buy ex large normally)
75g cocoa powder
100g self raising flour
Grease and/or line some baking tins. For the cheesecake/brownie mix I used my 2lb loaf tin and a 17cm square pan. (To make only brownies, just use the square pan, no need for the loaf tin). Pre-heat the oven to 180°C (170° for fan ovens).
Melt the butter and add the sugar. Beat in the eggs one by one. Sift the cocoa and flour together, and add to the mix in three parts. (At this point, if you're making regular brownies, add nuts/chocolate chips/marshmallows).
Divide between cake tins. Pour over the cheesecake batter (again, divide fairly between the tins). Give a bit of a swirl, but not too much, you want to keep the layers when it's set. Put into the oven for 40 mins.
When it comes out of the oven, it'll be all puffy. Let it cool until room temperature and then put into the fridge for two hours/overnight. It'll sink at this point, but that's ok, dense cheesecakebrowniecake is delicious. When it's cold, you can de-caketin them and cut them up.
I'd recommend digging some of the hot cake out with a spoon to taste it. Warm baked cheesecake is a strange taste when you're used to cold cheesecakes. Not a bad taste, just strange.